| | |
| --- | --- |
| Tags: | 3rd grade anthology, awesome |
| Security: | |
| Subject: | 3rd Grade Anthology - !Aliens From Outer! !Space! |
| Time: | 10:59 pm |
| Current Mood: | accomplished |
okay guys
As promised, here is
The 3rd Grade Anthology
I am going to post about one story a day for the rest of spring break. Hopefully I will end up scanning some of my 3rd grade sketchbook, too, because it is marvelous.
These were all written in 3rd grade in a Rugrats spiral notebook. My 3rd grade teacher Mrs. Allard (who was awesome) had us write anything we wanted in our notebook for 30 minutes at the beginning of the day. Then she would read it out loud to the rest of the class. I am so glad she did this, because my 3rd grade storybook is probably my favorite possession.
The way I digitized this is by typing up all the written stuff and scanning the illustrations. I typed it all up EXACTLY AS WRITTEN. Punctuation, spelling, etc.
The first story I am going to share with you all is

chapter 1
Aliens!
One day I was walking down the street, and looked up I saw a U.F.O! It landed and… ALIENS!!!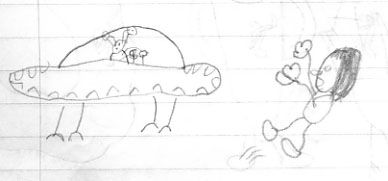 There were three tall looking Aliens. A slug looking one and a bird looking one, and a carrot looking one. They all said "Hi" and carried me to their ship. Inside there where all sorts of controls. There was a red button at the drivers seat, on it, it said 'Launch'!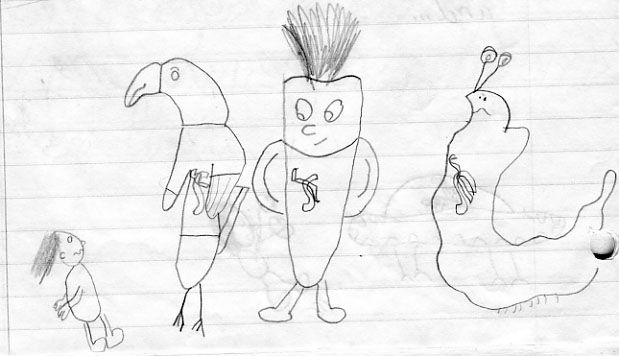 (I love how I gave them symbols on their spacesuits. I have no idea what it IS, but I love it anyway)
I pressed it, and we started to go up, the captian said "what's going on here?? He looked out the window and, we were in SPACE! It was so weird! I was with a bunch of aliens in space!
(This is my favorite. He has "No" coming out of his mouth)
Chapter 2
Where Am I!
(Almost everything I wrote had chapters, even if I didn't need them)
We acidently crash-landed on there planet. We got out and the captian said "we'll have to get repair aleins."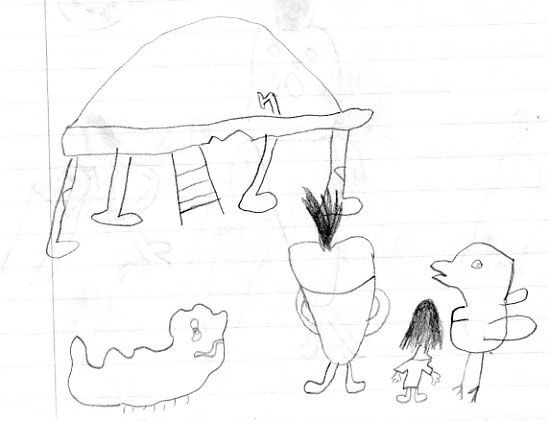 (I love how we accidentally crashed on THEIR planet, as opposed to ANY OTHER PLANET IN THE UNIVERSE)
There planet was called Hill Planet. It was very bumpy! I went up and down, up and down.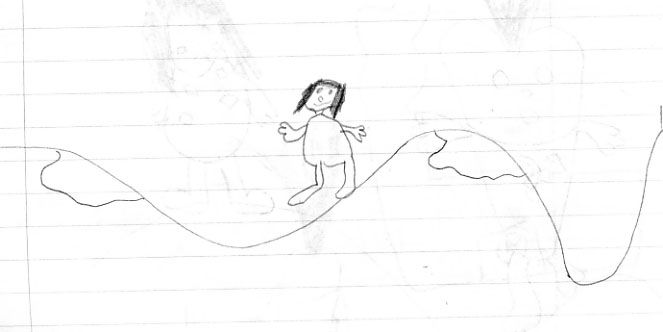 But then I started to cry! My tear drops turned into ice cubes. They asked was wrong I said "I WANT TO GO HOME!"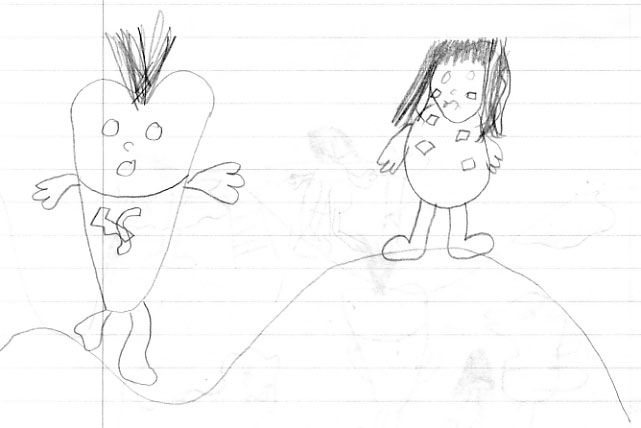 Chapter 3
Oh-No!
Well, you can't go now you see we have to get repair aleins. Well get them! I said. Ok, I will! He said. Then he ran to a reipar place.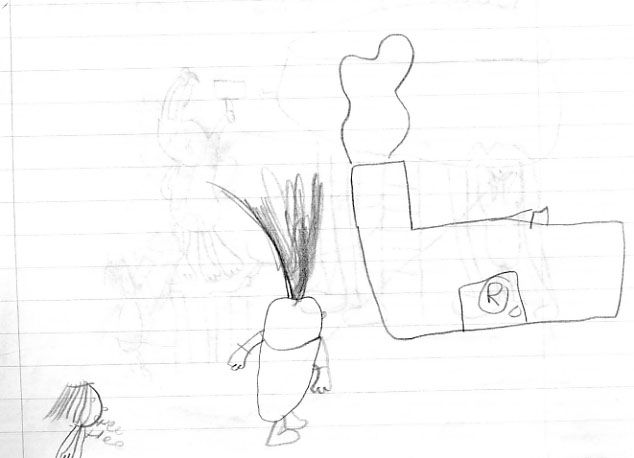 Then he ran back with two reiper aliens. I was so glad! I was going home!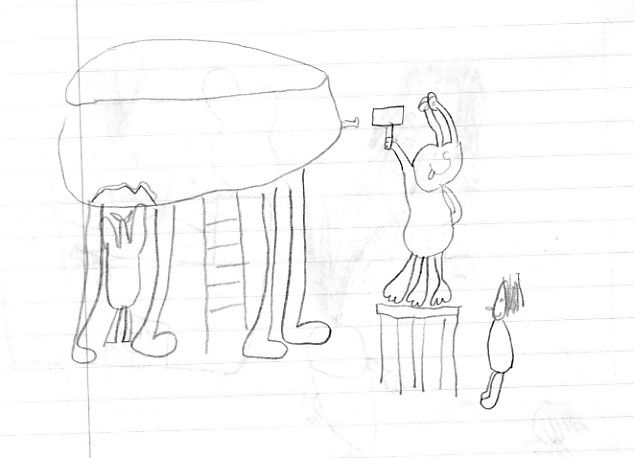 Chapter 4
Here I go!
I got on the ship and pressed the button. We went strait to earth. I ran home. I almost fell off the roof, because they landed there. I said how am I supposed to get down from here? Luckiley my dad left a ladder.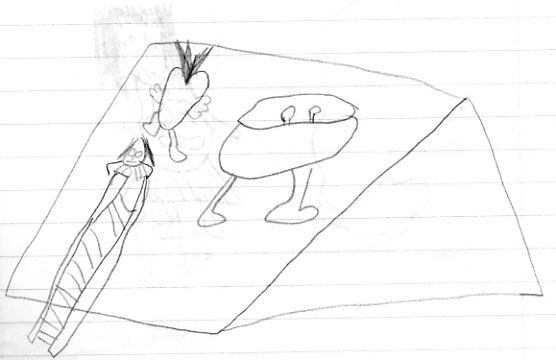 I got down and wacthed them leave. I had a great time. I was sad that it ended and this is the end of this story, Boo Hoo!
comments: Leave a comment